Download: cocktail recipes collection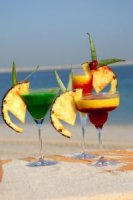 By Dave Millard. Over 120 cocktail recipes.

Alcohol Cocktail recipes with Whiskey, Gin, Brandy, Rum, Beer, Champagne, Vermouth, Curacao, Vodka, Tequila, Schnapps, Liqueur, Wine, Cognac, Amaretto, Bourbon...

Including: Alabama Slammer, Angel Face, Apricot Fizz, Barbary Coast, Black Eyed Susan, Black Velvet, Bloody Mary, Brandy Alexander, Chiquita Cocktail, Devil's Tail, Earthquake, Emerald Cocktail, French Connection, Fuzzy Mother, Golden Dawn, Headless Horseman, Hudson Bay, Invisible Man, Kiss in the Dark, Margarita, Nightmare, Queen Elizabeth, Red Cloud, Shark's Tooth and more.